---
---
Postby BigGuy » Tue Apr 03, 2018 7:21 am
Ben Heller placed on 10-day DL with right elbow bone spur
April 2, 2018 by Mike Axisa 57 Comments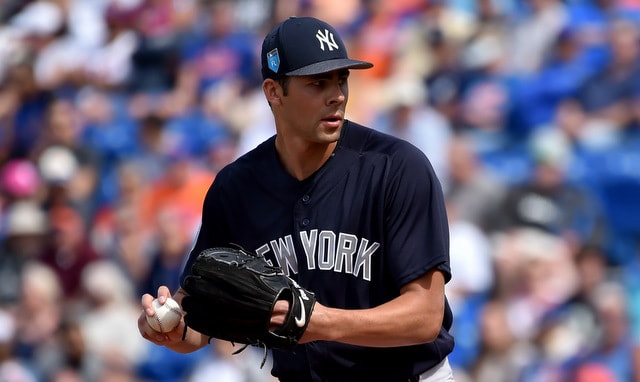 (Presswire)
Earlier today, the Yankees announced they have voided right-hander Ben Heller's minor league option, and placed on him on the big league 10-day DL (retroactive to March 27th) with a bone spur in his elbow. The Yankees didn't say anything about whether he needs surgery. Heller was among the final spring roster cuts. He was sent down on March 21st.
The option being voided indicates Heller suffered the injury at some point before being sent down, and either they didn't find it until now or he didn't tell them until now. For all intents and purposes, it's like he was never sent down. Heller will retroactively receive service time and big league play dating back to Opening Day, and yes, that counts against the luxury tax payroll.
The 26-year-old Heller struck out 17 and pitched to a 3.86 ERA in 11.2 innings this spring. He spent much of last season in Triple-A, throwing 56.1 innings with a 2.88 ERA (3.09 FIP) and 36.8% strikeouts, and he allowed just one run in eleven big league innings. Heller appeared in seven September games, so the Yankees gave him a bit of a look once rosters expanded.
With Heller and Gio Gallegos (groin) hurt and Jonathan Holder in the big leagues, the Triple-A Scranton bullpen is suddenly short on experienced late-inning arms. The Yankees signed Oliver Perez over the weekend to help cover for the injuries. Cale Coshow, J.P. Feyereisen, and Brady Lail will be the go-to relievers for the RailRiders, I guess.
"Leave the gun. Take the cannoli."
---
---
---
Postby BigGuy » Wed Apr 04, 2018 11:56 am
Yankees set minor league rosters
The next wave of Baby Bombers are coming.
By Tyler Norton@TylerDNorton Apr 4, 2018, 9:00am EDT
Reinhold Matay-USA TODAY Sports
It's hard to believe, but the minor league season begins on Thursday. The Yankees have a whopping eight affiliates, but only four play before the draft. With that in mind, it's worth checking in on the rosters for the teams preparing to play. Of course, these are subject to change, but they should give us a good idea of who's playing where.
Scranton/Wilkes-Barre RailRides (Triple-A)
Manager:
Bobby Mitchell
Catchers:
Kyle Higashioka, Erik Kratz
Infielders
: Jonathan Diaz, Mike Ford, Jace Peterson, Gleyber Torres
Outfielders:
Mark Payton, Shane Robinson, Junior Soto
Pitchers
: Chance Adams, Luis Cessa, Cale Coshow, Raynel Espinal, J.P. Feyereisen, Giovanny Gallegos, Domingo German, Anyelo Gomez, Nick Green, Brady Lail, Yoiber Marquina, Oliver Perez
At the beginning of spring training, one would have expected the RailRiders to field the most interesting team in the system. The Yankees have a ton of top prospects so close to the show. The Triple-A squad figured to be among the most entertaining in baseball. Then injuries struck, and the top names left are Torres and Adams. That's not a bad thing, though, and more firepower could be on the way with the return of Clint Frazier and Miguel Andujar. The latter figures to be sent down when the big league club gets an extra outfielder.
Trenton Thunder (Double-A)
Manager:
Jay Bell
Catchers:
Chace Numata, Jorge Saez
Infielders
: Mandy Alvarez, Abital Avelino, Bruce Caldwell, Vincent Conde, Billy Fleming, Chris Gittens, Gosuke Katoh, Russell Wilson
Outfielders:
Trey Amburgey, Rashad Crawford, Jhalan Jackson, Ben Ruta
Pitchers
: Domingo Acevedo, Will Carter, Jordan Foley, Caleb Frare, Joe Harvey, Jose Mesa Jr., Kaleb Ort, Jean Ramirez, James Reeves, Andrew Schwaab, Justus Sheffield, Erik Swanson, Stephen Tarpley, Dillon Tate
The story of the Double-A Thunder revolves around pitching. Many of the team's top arms will pitch for Trenton. That includes Sheffield, Tate, and Acevedo. The team also has some interesting position players, namely Amburgey and Avelino. Those two had strong cameos in spring training. Plus, there's a certain Seahawks quarterback who could always play at the keystone...

Tampa Tarpons (High-A)
Manager:
Pat Osborn
Catchers:
Donny Sands
Infielders:
Angel Aguilar, Daniel Barrios, Kyle Holder, Tim Lynch, Hoy Jun Park
Outfielders:
Alexander Palma, Terrance Robertson
Pitchers:
Albert Abreu, Matt Frawley, Hobie Harris, Chaz Hebert, Brian Keller, Michael King, Trevor Lane, Jonathan Loaisiga, Christian Morris, David Palladino, Josh Roeder, Adonis Rosa, David Sosebee
High-A Tampa hasn't finalized their roster yet,
seeing as they only have two outfielders listed. That open spot figures to belong to Estevan Florial, one of the team's top prospects. There's a lot of young talent on this squad, including the flame-throwing Abreu and intriguing Loaisiga. Plus, Holder has torn the cover off the ball for almost a year now. Tampa will be pretty fun to follow this season.
Charleston RiverDogs (Low-A)
Manager:
Julio Mosquera
Catchers:
Jason Lopez, Eduardo Navas

Infielders:
Dalton Blaser, Oswaldo Cabrera, Wilkerman Garcia, Chris Hess, David Metzgar
Outfielders: Frederick Cuevas, Leonardo Molina, Steven Sensley, Dom Thompson-Williams
Pitchers:
Braden Bristo, Luis Cedeno, Dalton Lehnen, Chad Martin, Nick Nelson, Glenn Otto, Daniel Ramos, Alex Robinett, JP Sears, Anderson Severino, Brian Trieglaff, Greg Weissert, Garret Whitlock, Matt Wivinis, Kyle Zurak
The RiverDogs may not have many household names, but that can change in a hurry. This talented group features Garcia and Molina, who could grow into their own this season. Plus, the Yankees have a knack for turning unheralded players into legitimate prospects in a hurry. Keep your eyes open here.
"Leave the gun. Take the cannoli."
---
Postby BigGuy » Wed Apr 04, 2018 4:50 pm
Chance Adams had surgery to remove elbow bone spur during the offseason
April 4, 2018 by Mike Axisa 35 Comments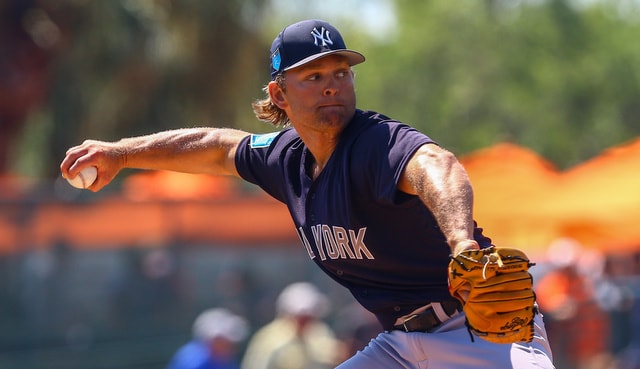 (Presswire)
Earlier this week, at Triple-A Scranton's media day, right-hander Chance Adams confirmed he pitched with a bone spur in his elbow late last season. He then had offseason surgery to remove it. The Yankees never did announce the surgery, though that isn't uncommon for a non-40-man roster player.
Adams, 23, had a 2.45 ERA (3.70 FIP) in 150.1 innings at Double-A Trenton and Triple-A Scranton last season, though he struggled down the stretch, allowing 13 runs in his final four starts and 22 innings. He didn't have a good Spring Training at all (4.2 IP, 9 H, 6 R, 6 R, 3 BB, 1 K, 2 HR). Here's what I wrote in our farm system preview:
Larry Rothschild recently told Brendan Kuty that Adams' arm strength wasn't quite where the Yankees hoped it would be this spring, and hopefully that's just a "he threw by far the most innings of his career last year and is taking a little longer to get to full strength than expected" thing and not a "he's out of shape" or "he's hiding an injury" thing.
So I guess it was a "he's hiding an injury" thing, though in this case, Adams and the Yankees were only hiding the injury from us. It's not like he tried to pitch through discomfort this spring and didn't tell the Yankees. The bone spur could definitely explain last year's fade and the tough spring. For what it's worth, Adams told Conor Foley he "didn't really think about" how it impacted his pitching.
The good news is Adams is healthy now — he'll start Opening Day for the RailRiders on Friday — and there was no structural damage in his elbow. You never want a pitcher to have surgery on his arm, but getting a bone spur removed is fairly routine. They go in, take it out, and it's done. I ranked Adams as the No. 7 prospect in the farm system. Hopefully he stays healthy this year and gets back to where he was before the bone spur.
"Leave the gun. Take the cannoli."
---
Postby BigGuy » Fri Apr 06, 2018 11:16 am
Yankees prospects: Previewing the 2018 Scranton/Wilkes-Barre RailRiders

What to expect from the Yankees prospects in Scranton this year.
By Jason Cohen@Jason00Cohen Apr 6, 2018, 11:00am EDT
Kim Klement-USA TODAY Sports
What to Expect
Triple-A is typically where teams store their major league-ready players until they are needed in the big leagues. A lot of times that means these guys aren't really prospects but instead are veterans on minor league deals looking for a chance. The Yankees have a few of those this year, but for the most part the organization is set to rely on internal talent. Scranton's Opening Day roster has significant depth when it comes to position players, but the pitching is pretty light at this point.
Position Players to Watch

Miguel Andujar (3B
) has already been called up to the big leagues and should see some time before he's sent back down. The trade for Brandon Drury certainly didn't help him, but he still has a chance at more playing time, if the need arises.
Thairo Estrada (SS/2B)
was shot in the hip in the offseason and hasn't been able to play yet. As a middle infielder, he's not exactly needed in this organization, but more depth isn't a bad thing. He's likely to get some attention this summer if he can get his bat going.
Clint Frazier (OF)
is still on his way back from a concussion, but if he can get healthy again, he will be a valuable piece of depth for this team. It's likely that most other teams would have an roster spot for him at this point, but he will have to wait a little longer to really have the space he needs to get going. He's still no guarantee, but there is a lot of hope.
Kyle Higashioka (C)
is one injury away from the big leagues. He's certainly not going to unseat someone like Gary Sanchez, but Higashioka could prove to be a better hitter than Austin Romine. Unfortunately, Romine is under team control or the next two years, so Higashioka will have to be patient.
Gregory Fisher-USA TODAY Sports
Billy McKinney (OF)
has surprised everyone with the resurrection of his career over the last year or so. He was on the verge of becoming forgotten, and now he's already made the majors. McKinney may never become the star he was once thought to be, but he should prove to be a reliable backup outfielder, and that's still useful.
Gleyber Torres (SS/2B)
is the star player from the Yankees organization, but a slow spring put a damper on things. Torres just needs to get back into game action and he should be exciting fans once again. Given the team's uncertain infield, and his ability to play multiple positions, there's a good chance for Torres to reach the majors later this year.
Pitchers to Watch

Chance Adams (RHP)
is the de facto star pitcher of the RailRiders rotation. He has done well to this point, but his lack over overpowering stuff could eventually sink him at the big league level. He was disappointing this spring, but hopefully that's not a sign of things to come. This will be a key year for him because he will need to be added to the 40 after the season.
Domingo German (RHP)
has come a long way to become relevant in the year 2018. He looked legitimately good in spring training, and he likely would have made the roster if there was more space for him. He's likely a reliever in the long run, but he should continue to get work as a starter. German could ultimately be an interesting swingman, should the need arise.
J.P. Feyereisen (RHP)
has seen some mixed results since coming over to the Yankees from Cleveland. At the end of the day, he needs to figure out how to limit his walks and get back to striking out hitters. He seemed to impress Aaron Boone in spring training, so this could be when he finally gets a spot on the 40. He can't be any worse than someone like Giovanny Gallegos.
"Leave the gun. Take the cannoli."
---
Postby BigGuy » Mon Apr 09, 2018 5:50 pm
Yankees among smallest bonus pools for 2018 draft, 2018-19 international signing period
April 9, 2018 by Mike Axisa 12 Comments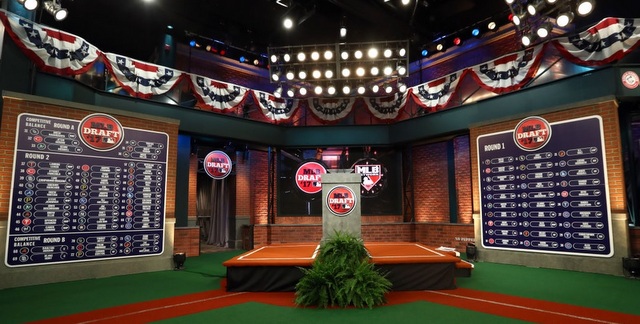 (Getty)
Now that we're into April, the 30 big league teams are really starting to bear down and prepare for the upcoming amateur talent acquisition phase. The three-day first year player draft begins Monday, June 4th, and the international signing period opens Monday, July 2nd. Here are the Yankees' bonus pool situations for the summer.
Draft Bonus Pool: $6,115,100
Greg Holland, the last unsigned qualified free agent, signed with the Cardinals two weeks ago, so the 2018 draft order is pretty much set, aside from any forthcoming Competitive Balance Lottery pick trades. The Yankees, who hold the 23rd overall pick, neither gained nor lost any draft picks through free agent compensation over the winter.
According to Jim Callis, the Yankees have a $6,115,100 bonus pool this year. The bonus pools increased 4.2% overall this year. Here are the individual draft slots by round:

First Round (23rd overall): $2,815,900
Second Round (61st overall): $1,086,900
Third Round (97th overall): $576,400
Fourth Round (127th overall): $430,400
Fifth Round (157th overall): $320,700
Sixth Round (187th overall): $247,600
Seventh Round (217th overall): $194,000
Eighth Round (247th overall): $159,800
Ninth Round (277th overall): $145,600
Tenth Round (307th overall): $137,800
Every dollar over $125,000 given to a player selected after the tenth round counts against the bonus pool. The penalties for exceeding the draft bonus pool are pretty harsh. There's a tax and you have to forfeit a future draft pick(s). No team has exceeded their bonus pool since the system was implemented in 2012 and I see no reason to believe that will change this year.
The Yankees haven't picked as late as 23rd overall since 2013, when they selected Eric Jagielo with the 26th overall selection. They didn't have a first round pick in 2014, and from 2015-17 they picked either 16th or 18th. Here is MLB.com's top 50 draft prospects, if you want to look over some players the Yankees could target. Our draft coverage will ramp up in the coming weeks.
International Bonus Pool: $4,983,500
Nowadays there is a hard cap on international spending — the Yankees greatly exceeded their bonus pool during the 2014-15 signing period, other teams followed suit, and MLB decided to put an end to it — and there are three bonus pool tiers tied to market size. The Yankees of course fall into the large market/small bonus pool tier, and thus have $4,983,500 to spend internationally this year, according to Ben Badler.
Teams are allowed to trade for additional international bonus pool space, which the Yankees did a bunch last year in anticipation of Shohei Ohtani's free agency. When Ohtani declined to speak to the Yankees, they turned around and gave the money to other international free agents, like Raimfer Salinas and Antonio Cabello. Teams can trade for an additional 75% of their bonus pool and must do so in $250,000 increments. The Yankees can max their bonus pool out at $8,721,125 this year.
Already the Yankees have been connected to top Dominican catcher prospects Antonio Gomez and Agustin Ramirez, so that's where some of that $4,983,500 is going. The Yankees aggressively traded for bonus pool money last year because of Ohtani. They could do the same this year, though these trades tend to happen on a case-by-case basis when it comes to Latin American prospects. Teams will have deals lined up before adding bonus pool money. They won't trade for bonus money then look for ways to spend it. Last year was different because of Ohtani.
"Leave the gun. Take the cannoli."
---
---
---
Return to "Yankees Farm System"
Who is online
Users browsing this forum: No registered users and 2 guests
About Us
A gathering place of the most knowledgeable, passionate Yankee fans on the face of the earth. Welcome to The Bronx Zoo.
Links
Information